Drama
Intent: The Big Ideas in Drama at Atherton High School
For every student to gain knowledge on the theatre and explore the world around them through a variety of artistic forms and creative opportunities.
Students will build knowledge about significant historical periods of theatre and identify how it has evolved.
Students will gain knowledge on how to create theatre, appreciate artistic decisions and experiment with different approaches.
Students will build knowledge on the principles of acting and character development and explore relevant social issues through performance work.
How the Drama curriculum contributes to the school's curriculum intent
Our curriculum supports students from all backgrounds, including those who are disadvantaged, so students can access a high-quality, knowledge-rich curriculum. Our school community believes strongly in providing disadvantaged pupils with a curriculum that enables them to reach the academic standards of their non-disadvantaged peers. Our goal is to bring our young people into the big conversations of our disciplines, to bring depth to our curriculum, so they can understand the world around them.
Knowledge – Knowledge is at the heart of every scheme of learning. Students will be taught the key component knowledge explicitly and revisit weekly to ensure any knowledge gaps or misconceptions are corrected promptly. Essential knowledge will build throughout the journey of learning to enable all students to develop deeper knowledge of key concepts and progress effectively through the curriculum. Students will have the opportunity to apply this knowledge in practical activities and engage in learning collaboratively.
Vocabulary rich – We have selected a challenging list of vocabulary, to enrich learning and deepen subject knowledge. Students will be taught drama and theatre specific terminology and its meaning to enable them to speak and write like a specialist when analysing and evaluating performance work.
Aspiration – Through a knowledge rich ambitious curriculum drama students will build knowledge on the origins of theatre in the 6th century as well as the influential Elizabethan period by studying Shakespeare. Students will explore a variety of scripts, experimenting with characterisation skills and focusing on the writer's and actor's intentions. Students will work through the process of devising drama using stimuli that inspire them and historical events to educate their audience.
Character building – Students will build personal attributes and character through the exploration, performance and critique of relevant social issues and events. Students will delve into different perspectives and challenge them through acting skills and drama techniques. Students will build confidence through oracy and constructive feedback and develop resilience in a supportive environment. Students will understand the different roles within a professional theatre and the potential opportunities in the wider world.
Love of learning – Is built through enthusiastic teaching, a clear passion for the subject and the promotion of a positive learning environment. Students study creative and engaging schemes of learning that challenge existing opinions and promote practical experimentation. Lessons include a range of activities designed to engage pupils and develop a love of drama and learning. 
The Drama Learning Journey
Drama Knowledge Organisers
Autumn Term
Spring Term
Summer Term
Reading in Drama
Reading in drama is approached through exposing students to a variety of challenging texts. Students will explore the text through a variety of performance techniques and build knowledge on how to present them to an audience. Students will explore the writer's decisions through practical and written tasks and analyse if their intentions are successful. Throughout KS3 students will study extracts from plays and popular stories delving into character relationships and how to create a atmosphere. In KS4 students will build knowledge on full plays by exploring narrative, character development and intentions.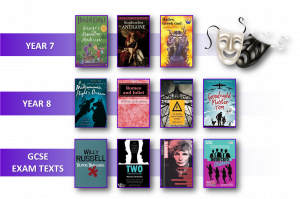 Learning Beyond the Classroom in Drama
Students will have the opportunity to experience live theatre through visits to local colleges and the professional theatre. Students will be encouraged to get involved in whole school drama productions and significant yearly events such as Remembrance Day. Students can also take part in workshops lead by practitioners giving them experiences of the theatre industry. Students who attend enrichment take pride in contributing positively to school events and exploring drama beyond the classroom!