Performing Arts
Music
Intent: The Big Ideas in Music at Atherton High
For pupils to speak, perform and compose like a specialist with an understanding of the way music governs their emotions, choices, and character.
For pupils to appreciate and recognise the key elements of music and understand their significance in order to know more and remember more.
For pupils to study a comprehensive music curriculum designed to cover the breath and depth of the National Curriculum.
For all pupils to discover an enthusiasm for performing, singing, composing, and appraising through exposure to a broad range of musical experiences, composers, and instruments.
To use music as a platform to develop core fundamental skills in communication, social and emotional wellbeing. To encompass an approach that encourages reflection, stimulates curiosity, and builds confidence.
For all pupils to be enriched in the cultural significance of music and to study and appreciate its history alongside understanding the parallels shared between different styles of music.
To gain knowledge of the music industry and the extensive range of career opportunities linked to music in life beyond school.
For pupils to appreciate and understand how music is created and documented. To use music technology to facilitate this and establish an inclusive learning environment.
We are delighted to be able to continue to offer our students the opportunity to learn how to play a musical instrument at Atherton High School. Our tutors are highly skilled, professional musicians and experienced teachers. A letter will be available to download soon.
Pupils will receive one 15–20-minute lesson each week and will be expected to participate in extra-curricular activities within the department including concerts and assemblies. There are typically between 10-12 lesson slots available each term. Prices will be available soon.
The following instruments will be available to learn:
Guitar
Bass
Piano
Drums
Vocals
Music lessons are an excellent way for students to develop their skills and understanding of music, as well as giving them the potential for a lifelong passion and opportunity for social development.
Musical training helps develop language and memory
Areas of the brain related to language and reasoning become more developed and students are constantly using their memory to perform. This can serve students well in education and beyond.
Students learn to improve their work and develop a sense of achievement
Music promotes excellence and students drive to achieve more. This can be applied to all subjects.
Emotional development and success in society
Students of music can be more emotionally developed and empathetic towards other cultures. They also tend to have higher self-esteem and are better at coping with anxiety.
Creative thinking, teamwork, risk-taking and self-confidence
Students that study music will learn to think creatively, and this can help them solve problems by thinking "outside the box". Students will learn how to work together and build stronger relationships. Performing can bring fear and anxiety but students learn to cope with these situations, which will help them become more confident.
Better exam results and extra credit on university applications
Studies have shown that music students achieve higher in exams due to the development of the key skills listed above. Universities look favourably upon applicants that have a music education when considering their entry.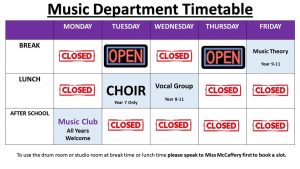 Knowledge Organisers
Learning Journeys
Drama
Intent: The Big Ideas in Drama at Atherton High
To build knowledge on a variety of drama techniques and how to use them.
To know and remember the key features of techniques and why they are essential.
To understand and explore the different approaches to developing both scripted and devised pieces of performance work.
To be exposed to the four strands of literacy to continually develop vocabulary and language, oracy, reading and responding.
To develop and demonstrate positive communication and social skills to enhance school life and beyond.
To use drama as a tool to explore social, moral and cultural issues and opinions within the world in which we live.
Learning Journeys
Knowledge Organisers – Autumn Term