Online Safety
Together we can keep every child safe online.
The PSHE, RSE, Computing and wider behaviour curriculum teaches pupils the rules and principles for keeping safe online.  This includes how to recognise risks, harmful content and contact, and how and to whom to report issues.  The curriculum enables pupils to have a deep understanding about healthy relationships and understand acceptable behaviours in relationships.
We all have a role to play – use our advice below, the tools and resources to help keep every child safe online.
If you would like more information click the image below.

Internet Matters
The four main providers of internet services have joined together to produce a useful website, Internet Matters, full of advice and information, including the setting of parental controls. It has sections for different age groups.
The internet plays a big part in the growth and development of teenagers, and plays an important part in their education. It is extremely important that everybody does what they can to ensure children are safe online, whilst at home and at school, ensuring children are taught how to use the internet correctly and safely.
As parents, carers and teachers, we have an important role in ensuring children are given the tools in order to stay safe online. Doing this will significantly reduce the risk of cyber-bullying, exploitation, and radicalisation. At Atherton High School, we take this responsibility very seriously and we provide curriculum time to educate students on the risks of being online as well as having appropriate filters and systems in place.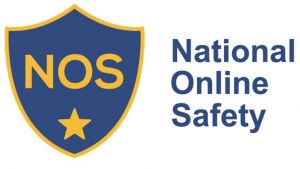 National Online Safety, make it their mission to make the internet a safer place for children. They achieve this through equipping school staff, parents and children with the knowledge they need to understand online dangers and how best to react should an incident arise.
With children spending more time than ever online, as adults, we need to be proactive in keeping them safe in the digital world.  With new apps, games and platforms emerging every day, it is important we keep informed and up-to-date with online safety.
The National Online Safety mobile application click here is created by experts with all online safety knowledge available at your fingertips.  The NOS app empowers parents and teachers to understand and address online safeguarding risks – anytime, anywhere.
CLICK ON THE APP BELOW FOR ONLINE SAFETY INFORMATION
Useful Links
For further guidance on how to report an issue, keep your child safe online or for more information regarding parental controls available to you, please take a look at the following useful websites:
Information and Support
Please click on the link below to receive guidance on how to support your child with their online activity. Pupils should be aware that future employers, colleges and universities search for background information about potential employees/pupils. Often, you see news stories were people face the consequences of something they posted online many years previously. This guidance will help them (and you) to use the internet positively and to avoid any future problems.