What is Enrichment?
Through Enrichment opportunities, we aim to enrich young people's school experience to pursue academic goals through non-traditional means, to engage pupils in the wider community and teach important social and emotional life skills.
What is the purpose of Enrichment?
The purpose of enrichment is to provide extended learning opportunities that branch out from the academic, technical and vocational, it gives students the opportunity to study concepts with greater depth, breadth and complexity, while also helping students to pursue their own areas of interest and strengths, developing skills and attributes that can be used in future career pathways. At Atherton High School, we believe all students deserve a well-rounded, culturally rich, education.
When will enrichment take place and what is our aim?
Approaches to enrichment may happen during or outside of normal school hours. The lunchtime enrichment programme for all year groups will run every day, from 1:20-1.40pm. In addition, we also offer after-school enrichment sessions 2:50-3:50pm, Monday to Wednesday. Our aim is to ensure that 100% of students are accessing our enrichment programme through either lunchtime or after-school enrichment provision.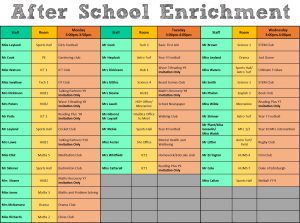 How do students sign up for an enrichment club?
Students are invited to attend our Enrichment Fair, where they can find information about what clubs are on offer, the time and where these clubs take place. Students will then inform their form tutor of their choice of club(s) and attendance is monitored on a weekly basis. It is also important to stress that students attending our after-school enrichment offer, will need to inform parents/carers of what club they are attending and the timings of the club.