Healthy relationships are taught through PSHE, RSE and subject curriculums, so that pupils will know the characteristics of positive, respectful and healthy relationships.  This understanding is further enhanced through our behaviour curriculum and school culture.
Tips for promoting healthy relationships.
Encourage young people to be proud of what makes them an individual.
Introduce activities like peer mentoring to help young people support each other.
Talk about relationships that are presented in films, books or the media. Ask young people which aspects they think are healthy or unhealthy, for example independence or control. Talk about the way relationships happen online as well as offline.
As young people get older, discuss issues around sex and consent.
To read more about Stop Speak and support click on the image below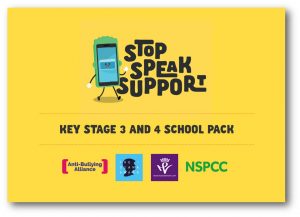 How to talk to your child about relationships.
Many parents or carers may feel awkward or uncomfortable talking to their child about relationships and sex. But there are ways you can make the conversation easier:
Try to find a good time to start a conversation. Pick a time when your child's relaxed and when there aren't other people in your family around. You might want to have the conversation in a neutral place, such as on a walk or a bike ride, or even in the car, rather than somewhere at home where you might be interrupted.
It can help to make the conversation relevant to something that's happened recently, for example, if you've been watching a TV series or film where one of the characters is in a relationship. You could ask your child what they think about the character's relationship and if it's healthy or unhealthy. Or if your child's been learning about sex and relationships education in school, you could ask them how they're finding this or what everyone in the class thought about it.
Try not to rush the conversation and let your child talk to you in their own time. It can help to have several short conversations rather than trying to cover everything at once. If your child feels uncomfortable, let them know that you're there if they want to talk to you about relationships at a different time.
Support if you're worried about your child's relationship
Realising that your child may be involved in an unhealthy relationship can be upsetting and worrying for parents and carers. It can also be difficult to know if something is wrong or how to help them. We can help you to spot the signs of an unhealthy relationship and know what to do if you're worried.
Signs that a child might be in an unhealthy relationship are:
Becoming isolated and spending little time with family or friends.
Controlling behaviour, such as being told what to wear, always needing to let the person know where they are or what they're doing or having their social media accounts monitored.
Feeling pressured or like they have to do things they're uncomfortable with. This could include being pressured into sex or to send nudes or sexual images.
Having their money, access to food or day-to-day items controlled.
Being prevented from working or going to school or college or feeling reluctant to go to school.
Persistent changes to a child's mood or behaviour can also be a sign that something is wrong.
Being bullied or experiencing sexual bullying, either online, in private or in front of others at home or in school.
If any of the above raises any concerns, please contact the school office on 01942 885500 or email Worried@athertonhigh.com