English
Intent: The Big Ideas in English at Atherton High School
Our aim is to create critical, confident, culturally rich readers, writers and speakers who can contribute to the big conversations of life.
English at Atherton High School seeks to inspire, engage and empower our young people.
Our curriculum is broad and diverse, dealing heavily with ideas of social justice and the human condition through its exploration of race, gender and humanity over both time and space.
Our aim is to prepare our young people to navigate, interpret and critique the diverse world beyond the school gates by permeating their learning with big ideas, rich vocabulary and powerful knowledge.
Throughout KS3, Atherton High School students are invited to engage with a wide range of texts and literary styles to encourage them to build and challenge opinions. Shakespeare is taught in year 7 and 8 to build a strong foundation and confidence in the analysis and understanding of challenging texts. Delivery of Romeo and Juliet in year 7 introduces abstract concepts of love, relationships and revenge with the dissection of character, themes and the introduction of sonnet form; study of The Tempest in year 8 endeavours to introduce influential ideologies of power, discrimination and voice. Around these seminal texts, which allow us to expose students to ideas around love, power, violence and marginalisation, the KS3 curriculum explores wide ranging topics, texts and perspectives. Our students will study units on 'Gothic Literature', 'Literature through Time' and the power of rhetoric through fiction and non-fiction during year 7 and 8 in order to give them an elevated platform from which to explore concepts such as societal injustice in Willy Russell's Blood Brothers and stories of triumph in the face of adversity through the study of novels like Christy Lefteri's The Beekeeper of Aleppo. The power of 'voice', and the study of those marginalised voices that have been repressed in the past, also permeates our diverse curriculum, inspiring our young people to develop and use their own voice and speak out for what they believe in as they develop their own 'writer's craft'.
A KS3 rich in opportunities to read full texts, write like a literary critic/author of fiction and explore all that English has to offer, fosters a formidable knowledge base from which our young people can successfully tackle their GCSEs.
In KS4, topics and texts continue to grapple with engaging content from powerful poetry of war and conflict and battles against social injustice, through An Inspector Calls, to Dickens' didactic and ultimately uplifting tale of A Christmas Carol. Atherton students will also be exposed to wide ranging texts in preparation for their language exams in KS4, allowing them to explore texts including the diary of a Victorian prisoner and craft creative writing inspired by sublime poetry.
Throughout every unit we endeavour to enrich students' vocabulary in such a way that they have to tools to comment critically on the unit of study and beyond, whilst also building the skills to confidently, and articulately, engage in the world around them.
How the English curriculum contributes to the school's curriculum intent
Our curriculum supports students from all backgrounds, including those who are disadvantaged, so students can access a high-quality, knowledge-rich curriculum. Our school community believes strongly in providing disadvantaged pupils with a curriculum that enables them to reach the academic standards of their non-disadvantaged peers. Our goal is to bring our young people into the big conversations of our disciplines, to bring depth to our curriculum, so they can understand the world around them.
Knowledge – Knowledge is at the heart of every scheme of learning. Students will gain a far-reaching breadth and depth of knowledge through study of texts which deal with the carefully selected concepts we believe underpin the study of English. Students will work with knowledge organisers and use those as a platform to deepen learning.
Vocabulary rich – Each of our schemes of learning will start with a challenging list of vocabulary (specifically chosen by our expert staff to enrich learning and deepen understanding) which will be mastered through a range of tasks that are embedded in pupils learning and developed over time.
Aspiration – Through knowledge rich, diverse and wide-reaching texts, topics, discussions and experiential visits, students will be encouraged to develop knowledge and skills that will ensure a purposeful, ambitious, pupil-driven transition to life beyond AHS.
Character building – Character is built through exploration of topics, text and experiences that develop pupils' social, moral and cultural understanding; we deliver a curriculum that includes and promotes British Values and ensures employability skills of oracy and written communication are developed.
Love learning – Our students study engaging topics and texts that stretch their imagination and understanding of the world around them, developing skills of inquisition. A range of strategies are used in teaching designed to support, inspire and challenge pupils to become independent learners. As a department, and as a school, we encourage an understanding of the changing world and how learning is a life skill. We embed cross-curricular links wherever possible to empower pupils to demonstrate and deepen their knowledge and application of learning.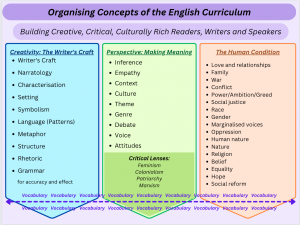 Concepts Across the Curriculum
The English Learning Journey
English Knowledge Organisers
Autumn Term
Year 7
Year 8
Year 9
Year 10
Year 11
Spring Term
Year 7
Year 8
Year 9
Year 10
Year 11
Summer Term
Year 7
Year 8
Year 9
Year 10
Year 11
Reading in English
English reading and texts are the beating heart of the English curriculum at Atherton High School. Our carefully selected knowledge and concepts are taught through high quality, engaging literature texts as vehicles to ensure students of all abilities and backgrounds to make authentic meaning from their English lessons. We use research driven strategies to increase students' reading abilities whilst also promoting reading for pleasure outside the classroom. On their journey from year seven to eleven our students will read a library of whole texts which transport them to other worlds, create invaluable empathy and allow them to become confident readers.
Learning Beyond the Classroom in English
Students have the opportunity to make links beyond the classroom every single day. We pride ourselves on a curriculum built to transport students to different times, places and perspectives through our choices of text and concepts. Students will also go on trips the local theatres to experience drama performance live; have external companies come in to provide workshops and performances; partake in bespoke cinema visits to see how texts can be re-interpreted and re-created on screen; and even visit London to experience the infamous Globe Theatre and Charles Dickens Museum.